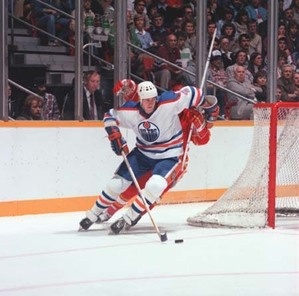 Kevin Lowe powered his way off the life support today, and so far, the kids are making him look pretty smart.  It's early in the season, Sam Gagner has a pair of assists with limited icetime and is looking to supplant Ales Hemsky as the youngest player to crack the lineup in forever.  Cogliano's looking serviceable, and all Sanderson has to do is score 10 more goals and he'll be more useful than poor Lupul was last season.  (At his current rate, as nobody can seem to resist pointing out this time of year, that'll happen in another 10 games.)
On the other hand, anybody who's watched enough hockey knows that kids are always about half a step away from the wheels falling off altogether.  There's a lot more Steve Kellys and Ralph Intranuovos in the world than there are Ales Hemskys; chances are good that if even one of them turn out as good as Ryan Smyth, we'll still have to suffer through a couple years of pain before they reach those heights.
It remains to be seen if the goalmouth in Lowe's future will be empty for a glorious wraparound goal as he escapes the defender, or if the goalie will slide over just in time to block him and shatter his hopes and dreams.  I'm not sure myself, but I know that Kevin Lowe's never backed away from a fight in his life, and I don't figure on him starting now.
(Photo from oilersheritage.com and is copyright the Edmonton Oilers.)
---