Edmonton Oilers Press Release:
Edmonton Oilers General Manager Steve Tambellini announced today the acquisition of forward Ryan Stone, goaltender Dany Sabourin and a fourth round draft choice in 2011 from the Pittsburgh Penguins in exchange for goaltender Mathieu Garon.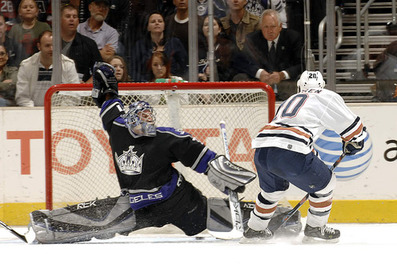 My first reaction was "What do the Oilers get out of this?" Garon gets to go to an organisation where he won't be battling a third goalie for practise and playing time, while Edmonton gets... a third goalie, a fellow with 8 NHL games plus three AHL seasons in the 5 years since he's been drafted, and a fourth round pick, also known as the scratch and win ticket your aunt gave you for Christmas.
But. The trade market is teh sux, as kids of yesterday might have put it. Considering the non-return the Canucks got for Sanford, I guess getting anybody at all back is doing ok. Really, this trade is Garon for Stone. Tambellini made mention of "solving the goalie problem" so he won't have brought in Sabourin to occupy an NHL roster spot. He'll be in Springfield tutoring Dubnyk unless Deslauriers falters or he or Roloson get hurt.
Stone has size and plays centre, two things the Oilers are badly missing. His lack of playing time in the big league isn't surprising when you consider that the players he was behind on the Penguins depth chart are named Crosby, Malkin, and Staal. His 19/20 year in Brandon was 99 points, not bad.
I looked at his GP totals though, and I immediately thought, "injury prone." A look at his Hockey's Future profile confirms that. He's had a concussion, hand injury, and probably more. This year he seems healthy enough, having played 38 games for the W-B Penguins. However, falling short of a point a game at 23 years old in the AHL doesn't bode well for his future as a scorer in the NHL, regardless of how he's been used in the minors. Using Desjardins equivalency, he looks like a 25 point player in the NHL.
Lowetide, who obviously wakes up before I do, already has a post up and thinks Stone is about a JF Jacques equivalent trade-wise. If Stone is as his numbers and talk advertise, a gritty centre who plays well enough in both ends to not be a liability, he's a fourth-liner who can fill in on the third, so that assessment seems reasonable. He seems tough enough as a light middleweight; his scrap with Steve Downie (look for it on hockeyfights) certainly showed some aggression and know-how.
As a return for a goalie who helped to keep Brian Burke from drafting Luke Schenn, Kyle Beach, or Zach Boychuk in 2008, that's not great. Stone has to be a bit of a disappointment so far, regardless of who's ahead of him in Pittsburgh; he's been surpassed by several players taken after him, like Shea Weber, Patrick O'Sullivan, and David Backes.
But, and there's always a but... Trading a current headache in the form of 1/3 of three unhappy goalies in return for any potential at all is pretty good in today's market. If I was Stone, I'd be in Shawn Horcoff's hip pocket; if I was Craig MacTavish, I'd be telling this young man he could do worse than to emulate the heterochromic one in terms of defensive play and maximising your assets.
Where does he fit in? Marc Pouliot has got to be looking over his shoulder at this point, since Stone will be wanting his roster spot. Potulny's may be in trouble too, and MacT may also consider sitting Strudwick in favour of the new guy, as his strategy appears to be to play MacIntyre against teams with tough guys and Struds against those lacking one.
---