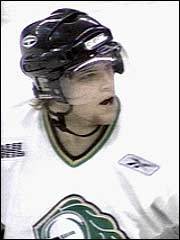 Full name: Rob Schremp.
Aliases: Robbie, Robimus Prime, Lady's Man, The Saviour, Jesu Schrempo.
Claim to fame: fancy stickwork in shootouts and exhibition games; being able to drive a kayak in the middle of a hockey arena; an unfortunate MySpace photo.
History: one year with the Mississauga Icedogs, traded to the London Knights. Two trips to the Memorial Cup with one win, an OHL scoring championship. 384 OHL points. Two Oilers training camps, one demotion back to juniors and one to the AHL. So far he's scored 16-34-50 in 67 AHL games, and been a healthy scratch for a handful.
Recent quotes:
Asked if it hurt to see "guys like Jacques and Pouliot and Stortini and those type of guys" get callups ahead of him, or if it was frustrating -
Those guys are good buddies of mine so obviously, seeing them have the opportunity, you're kind of... you're proud of them and you're happy for them... it's not a 'oh I should be there' kind of thing . . . One thing I did learn this year is you have to earn your callups . . . I've been a little bit inconsistent this year, so I don't think I was - maybe I didn't deserve to be called up or whatever . . . now that I've spent the whole year here, grasping the game, I think it's more beneficial than maybe being called up at the beginning of the year or halfway through the year and kind of struggling a bit, you know . . . I knew it would be quite an adjustment [from junior to the AHL] . . . the biggest part is maybe figuring out what you're going to struggle with and figuring it out as soon as you can.
Asked what he's been working on this year with Kelly Buchberger and other Oilers coaches: "Consistency, being more reliable in the defensive zone, that would be the main thing. Consistency and coming back in your own end." So defensive zone work was the focus? "No, just... learning how to play the professional game, coming in every night and perform, not have nights off."
Just after his first NHL regular season game: "First period was really fast, just kind of figuring it out a bit, and after that I felt better."
He had a missed shot, two faceoff wins and a faceoff loss and was evens in 4:58 of first-period icetime; his final totals were 13:50 of icetime in 17 shifts, with 5:01 coming in the third period. 6/12 = 50% in the faceoff circle, although Todd White owned him. 2 shots on goal, apparently a missed chance, and evens. For comparison, his buddy Pouliot played 15:13 and his analog Joffrey Lupul played 13:37. Pouliot, of course, gets PK time as well as PP, and Lupul's kept in the pressbox when his team's killing penalties.
"I didn't feel like I was behind at all . . . I felt faster out there [compared to pre-season]. I was pretty nervous out there, it was good though, positive nervous energy . . . I thought I did ok."
Obviously MacTavish agreed, given the icetime Schremp saw, so he'll likely dress against Calgary tomorrow as well. Coach had this to say, in addition to calling the pace of his play "marginally improved":
game "marginally" improved. "Maybe he could get a bit more efficient in terms of helping out, retrieving the pucks and so forth, but You get the sense that when he does get the puck that he's going to make a play with it, especially through the neutral zone . . . I thought he played ok."
Hardly a stunning debut, but that goes both ways: sometimes the rookies are Sidney Crosby, and sometimes they're Alexandre Daigle, but usually they're Rob Schremp and Marc Pouliot. We'll see more of this young man, and I suspect he'll get similar treatment - 10-15 minutes of icetime - until he proves to have earned more - or less. He'll get some power play time (winger on the second unit, I suspect, and I'd be surprised if that's not how he was played last night) because he's got a history there, and won't see the ice on the PK except by mistake, I'm sure. He's not the saviour some HFBoarders would have us believe, he's not the evil "me first" kind of guy other Internet wags would say, he's just another 20-something with something to prove - and he'll get the chance to prove it.
(Image: tsn.ca.)
---