Listening to Dean Millard and Guy Flaming, they want to know why Nilsson is down, Schremp's been sent down, and Pouliot is still up.
A recurring theme from them and from callers to the show has been along the lines of rookies (Schremp) feeling pressure which is cramping their development, and it's the fault of Craig MacTavish, with no mistakes being tolerated.  I've watched several of the games (all of the last 5), and to my eye, there's a world of difference between guys like Sam Gagner and Andrew Cogliano, and Rob Schremp and Robert Nilsson.  Gagner and Cogliano have made mistakes, like every rookie does - positionally, poor choices of who to pass to, and so on.  The difference between Gagner, Cogliano and Schremp, Nilsson, is the former two are putting up results and their mistakes aren't as bad.
Defenders of the two R's would say that's because they've been given better linemates, but I don't think that's all there is to it.  Gagner's got a fair bit of native sense that helps him out, and Cogliano has his raw speed and a certain level of maturity that he's probably gotten from playing in the NCAA against guys three and four years older than he is.  Schremp has some nifty stickhandling moves and some offensive sense; he's gaining some defensive sense, but there's not much else there right now.  Nilsson just plain hasn't shown much of anything - never a good thing if you want to play on the second line, and he certainly had that chance early on.
Case in point (and of course I can't find the photo now), in the game against Phoenix, the puck was in the crease area and an Oiler was charging hard to the net with a couple of Coyotes in the area.  Schremp was standing well off to the side down by the icing line.  With the puck where it was, he can't just be standing there - he needs to be closer to the net with his feet moving and his stick on the ice.  It's just one play, but it's indicative of how he's been playing.  You can argue that maybe he'd have done better with better linemates, but you could also argue that if he's really that good, he'd be producing something anyway.  Kyle Brodziak can score playing with Reasoner - why can't Schremp?  Skill players need skill players to produce?  I don't think it's that simple.
As far as pressure goes, Craig MacTavish likely knows a few things about it.  I suspect his approach is something along the lines of "if you think there's pressure now, 7 games in to the season and you're feeling down because things aren't going your way, wait until game 7 of a playoff series."  You want to find out early and fast if players can handle the pressure, because in the playoffs, there are very few second chances.  If Schremp's confidence is such that only staying in the NHL on the first two lines allows him to be a happy and productive player, then I don't want to see him as an Oiler.  Time will tell.   Why does MacTavish give veterans the breaks he doesn't give rookies?  They've already proven they can recover.  Is that fair?  Well, it worked for the vets, right?  Ales Hemsky didn't play 82 games his rookie year, and he seems to be doing all right now.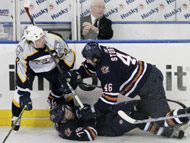 Robbie Schremp doesn't worry me - this is not his make-or-break year, although time is running short.  Robert Nilsson doesn't really worry me - maybe it's just because my expectations weren't that high to begin with, but I think he's got another year anyway.  Marc Pouliot worries me.  I think he's still up because the team already figures they know what they have.  If he's not a regular by the end of the year, he's likely done, and that's a slap in the face of what we'd hoped was improved drafting since 2001.  Plus, it would be a disappointment of almost Hajtian proportions for Lain, and I don't know if the old man can take much more of that.  We sure would miss him.
(Image ganked from cbc.com, credit John Ulan/CP.)
---