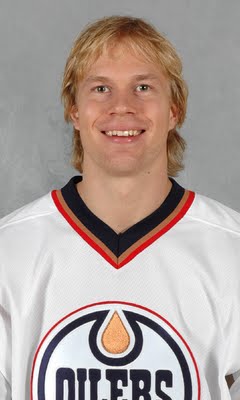 Rob Schremp is one of those high-skill, high-risk players that gives scouts nightmares. Yes, every scout likes to hear about how smart they were, drafting Pavel Datsyuk in the 171st overall in the 6th round, but what about Ryan Barnes (55th), Tomek Valtonen (56th), Jake McCracken (84th), Brent Hobday (111th), Carl Steen (142nd), or Adam DeLeeuw (151st)? Those men have 2 NHL games played between them. If Detroit's scouts are so goddamned smart, why didn't they take Datsyuk with the Barnes pick and after the draft go on about how they couldn't believe he was still available that late? Yet you let a high-skill guy slip and next thing you know, some blogger's writing about how you could have had Mike Ribeiro if only you hadn't taken Michael Henrich instead.
That 1998 draft was terrible for the Oilers, by the way, their man in the first round was the only one to never play even a single NHL game. Meanwhile the guy taken just before him has 580 points and was still looking for a contract this September. It took a certain heterochromatic college boy taken 99th to give the Mighty Oil any semblance of respectability at all in a decently deep draft. But I digress.
The point is, the draft is largely a crapshoot. Sure, the odds are more in the scouts' favour in the first and second rounds, guys taken there tend to bust less than the guys taken in the 5th round, but for every Miro Satan there's any number of boulevards of broken dreams.
The Islanders plucked Rob Schremp (not in picture) off waivers the other day, much to the satisfaction of all three of the man's remaining fans. "Finally," they say, rubbing their hands together with glee, "we'll see what he looks like with the shackles off! Old Man MacTavish just couldn't stand skill players who wouldn't play in his mold!" When Schremp fizzles on the Island, it will be "See what the Oilers system has done to yet another quality prospect? Why oh why can't we be more like the Wings?!"
Yes, Deroit's had lots of success. Yes, I believe they have a quality system. Yet they could have had Andrew Cogliano, but they took Jakub Kindl instead. Even if they wanted D, Marc-Edouard Vlasic was still on the table. Perception is a funny thing; Edmonton's busts are the fault of the coach, the GM, the scouts - anybody but the player - where Detroit's are written off as the vagaries of the draft. Anybody still think Igor Grigorenko's going to come out of nowhere and prove to be better than Tomas Plekanec, Stephane Veilleux, or even Patrick Sharp The Pride of The University of Vermont?
This isn't some "bash Detroit to pump Edmonton up" article though. Edmonton's clearly had developmental issues. Lack of a farm team will do that to you every time, and there's no question their prospects have suffered because of it. Detroit's still the class of the league for the last 10 years, but even they have obviously bet on 12 a few times when there were some 7s left in the dice.
Returning to the man in the title, Jonathan Willis thinks that Schremp will get 40 points, 25 on the PP with the Isles. Willis is a smart man, and others are probably making similar bets, but I say if Schremp gets 40 points, it's with the Bridgeport Sound Tigers, not the Isles. Mike Comrie, who has a much better pedigree than Schremp at this point, only managed 49 points in 76 games playing with Bill Guerin and Miroslav Satan in 07-08. Meanwhile, Schremp has struggled to score in the AHL and will be playing with has-beens and up-and-comers. Yes, the Falcons were terrible, but let's face it - the Islanders didn't win the Tavares Sweepstakes by sending in the Reader's Digest cards.
I want Schremp to succeed, I really do. I don't like seeing anybody fail, much less young men my favourite NHL team drafted in favour of Mike Green, Schremp's teammate David Bolland, or David Booth. But if - and that's a huge if at this point - he succeeds, it will be despite himself, not despite Craig MacTavish or Kelly Buchberger or Kevin Lowe. And for every Ray Whitney you throw at me, I'll return a Jani Rita; for every Daniel Cleary, I'll return Pat Falloon and Jason Bonsignore, with a side dish of Alex Selivanov.
---