#1 Hockeytown
What arrogance, what hubris.  I guess 10 Cups gives them a right to some arrogance, but that's not even half as much as Montreal.  Hockeytown USA I could stand, barely.
#2 Annoying players
It's pretty easy to hate Kirk Maltby, Dallas Drake, and even Tomas Holmstrom and Dan Cleary.  They play no-holds-barred, and Holmstrom is as bad as Ryan Smyth for bumping with the goalies.  Cleary's re-invented his game as a grinder, and he's good at it.  None of them are big, but they all hit and facewash with the best of them.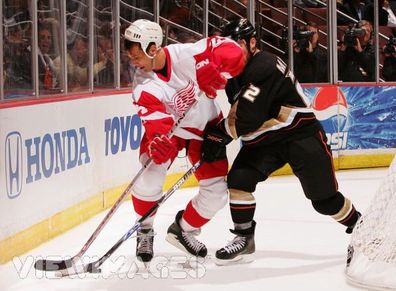 #3 Chris Chelios
He could slot under annoying players, but he deserves a class all his own - not the least because even vets like Maltby and Drake are kids next to this guy.  He's done it all; scored big goals, fought big fights, won with the team (two Stanley Cups, a World Cup) and won individual awards (three Norris trophies and All Star nominations like nobody's business).  He's also one of the dirtiest players going, and even worse, gets the benefit of the doubt from the refs.
#4 The Octopus
I mean, really.  Throwing dead marine life onto the ice?  Brad Winchester's an ex-Oiler now, but one of the best moments of the 2006 playoffs for the Oilers was Winchester's handling of the octopus - Lowetide has used that picture a few times now.  And Detroit's not even a port city!  I guess it would be in poor taste to throw 9mm cartridge casings on the ice.
#5 They're good.
Yeah, this one's getting old, but for the last 10 years, has there been an overall better team than the Wings?  It didn't hurt that they also consistently ran with the big dogs payroll-wise - they slipped under the radar a bit with the Rangers grabbing the spotlight, but this was a team with a 60mm+ payroll for a couple of years running when the median seemed to be in the 40s.
(Image ganked from Viewimages.)
---