Lots of nasty comments directed my way over David Staples' place. I didn't give enough credit for gritty play and didn't use my eyes were the best of the comments. Herewith follows my rebuttal, because I have my own blawg to feed and I can't stand typing into comments boxes anyway.
I think I can boil down the thought behind the flames (har) to this: the Oilers played gritty, which is what they've been missing since 2006, why are you hating on them? They only lost because of a couple of fluke goals! If they keep it up this way, the wins are sure to come! Why so many 5s?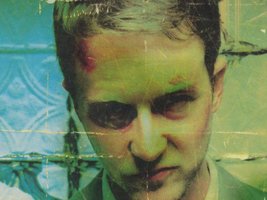 Let's get this straight: I don't give a good gosh darn how gritty the team plays if they lose. I don't give guys 7s just for hitting a lot; I give guys 7s for hitting a lot and scoring. Yeah, Calgary scored a couple flukes, and Edmonton scored a couple Kipper should have had as well, so it evened out. Yeah, JFJ was pounding guys all night, and Stone's hit on Giordiano was a beauty (even if the Flame did get away with some blatant interference to keep Stone out of the play), but...
The Oilers hit one hell of a lot in their playoff series vs the Stars in 98, 99, 2000, 2001. They got past the first round exactly once. The next game a team wins based on hit count will be the first. Good teams don't care about being hit, they just put the puck in the net. It's the mediocre teams who take solace in the sentiment of "well, we sure did outhit them!" Scoring goals wins games, nothing else. It might feel good viscerally to see Phaneuf get some of his own medicine back, but he doesn't care, his slapshot will be just as hard the next time, and when he scores that's all the validation he'll need.
Don't get me wrong, I'll be the happiest guy in the world if the Oilers go 81-0 the rest of the way playing exactly like they did Saturday night. I say if they keep it up, they're a .500 team and 8th in the West at best. At worst, they're going to be just good enough to not be a lottery team. Hooray.
The killer for me is their top offensive guy, Hemsky, was playing in a PvP role. That's exactly what he was sulking about last year, and he'll be annoyed again this year - and with good reason, it doesn't give the team the best chance it has to win. Except hanging him off Gagner's wing is probably no recipe for success either. Horc's the best centre for Hemsky, but he's the only guy who can hang with the big boys too. Play Hemsky with Comrie? Who would you want to see riding shotgun on that line? Last time I checked, Esa Tikkanen was retired.
Quinn's in a real pickle, much to the surprise of nobody. He needs a checking centre, and ideally, one he can trust to go out and take on the Iginlas and Sedins of the world. With all due respect to guys like Brule and Stone, they're not it. They just don't have the NHL experience yet. Until Quinn gets that piece - through trade, signings, or somebody surprising - this team is sunk, and it doesn't matter if JFJ pounds Phaneuf through the boards once, five times or five hundred times; it doesn't matter if Gagner one-punches Conroy to the ice or if Souray drills Moss right through the end boards. Physical play helps - it's essential to separate the man from the puck. But good players don't get scared, that's why they're good players in the first place. They'll just go about putting the puck in the net and thumbing their noses at the Oilers, sinking from one too many holes in the lineup.
---