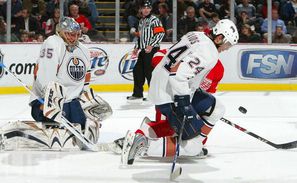 Man, I called Laddy Smid "Steady Smiddy" and still I forgot #24, The Macedonian Wonder, He With The Wondrous Beak, The Puck Magnet, Stevie Shot Stopper Staios, as a commenter Pointed out. I can only claim a stupidity which I hope is temporary, plus I was posting from work in between doing other things.
Sorry Steve, you were wonderful last night. Grade of 8, 2 assists including one of those "hey guys, watch this, slapshot from above the circle, through those guys, off Penner's ass, and then, hahah, this will kill you, the GOALIE KNOCKS IT IN!" types. He was on the ice more than any Oiler not named Sam Gagner. He was at his puck magnety-best with 5 blocks too. No horrible mistakes in the offensive zone. The commenter called him the best Oiler on the ice; I'd say it was close between him and Penner, but since I screwed up, I'll let Steve beat my man. This time.
What is it with Quinn playing forwards more than defence anyway?  A few games ago Penner led all Oilers in ice time.
Image credit: Dave Sandford/Getty Images.  Please don't sue me.
---