I haven't graded since 26 April, so I'm pretty rusty. I think the Oilers would sympathize. I barely had any pluses or minuses against any names at all, which could indicate that my powers of observation were lacking, or that no Oiler really did much to stand out one way or another. Either way, not a great game, but the only terrible came at the worst possible moment. Sadly, I realized about five minutes before the game that I have no recording device, so some details of some plays will have been lost to the vagaries of an old memory and whatever replays I can find online.
Smid, 5: 13 minutes of icetime. He was on the ice for 5 total goals - Glencross, Penner, Dawes, Brule, and Gagner. Dawes scored on the power play, as Phaneuf played the old "hey guys, watch this, five feet wide and off #5's chest and in!" bankshot. I'm not sure how that goal went to Dawes, but it doesn't matter. Smid wasn't really at fault there, and by the same token he wasn't much of a player on the three Oilers goals. He was scrappy at times, and had not-terrible coverage most of the time, so a 5.
Horcoff, 5: 19 minutes on the ice, 4:11 of PP time and one shot. -1 wasn't deserved, he was on the ice for Moss' second goal. He won faceoffs and wasn't bad defensively, but he needs to do more offensively. He was out against Iginla's line a lot in a power vs power matchup a lot, and while they were bottled up several times, they did their own share of bottling as well. Maybe deserves a 6 for helping to shut down Iggy et al, but the guy needs to put some in the net himself.
Cogliano, 4: a bit of a weak game from the speedster, not so much for what he did, but for what he didn't do. I suppose it could be a good thing that he was almost unnoticeable, but his line wasn't really a checking line. Showed good moxie getting up after being crushed along the boards, but he wasn't zooming around much. Maybe it doesn't do him any good to be lining up with two of the slower Oilers, but there's not many who can keep up with him anyway.
Moreau, 6: weak penalty and he was barely used on the PK, odd for a checking winger. Yet his hit led to a rushed pass that got bobbled to Gagner, so on the whole, a good game from TheCaptainEthanMoreau. If he plays just like that most nights, the team should be ok - it'd be better if he could eliminate the weak penalties altogether though. Not a bad night for 11 minutes of icetime.
O'Sullivan, 5: On the plus side, he had 6 shots, and some of them were pretty good chances. Another 3 missed the net, at least one of which would have been a golden opportunity. On the minus side, none of his 9 chances went in. What's better, a guy who gets 5 chances and 0 points, or a guy who gets 2 chances and 1 point? I also thought he should have had better coverage on Moss' first goal, although that being a penalty kill maybe he was where he should have been, I don't know.
Jacques, 4: 3 shots, 5 hits and 2 shotblocks. I thought only one of his shots was good, and he wasn't creating a lot. 4:07 of PP time, with which he did little. Maybe he needs a few games to settle in, but I can't see him staying with Hemsky for long. I love his effort, but he's a bigger, slower Liam Reddox on the top line at this point.
Staios, 6: I was shocked that he had nearly 20 minutes of icetime, which is a great thing if you're a defensive dman. 2 shots and one blocked, 1 blocked shot. He was a bit of the goat on the first Moss goal, I think he lost track of the Flames players and they got between him and the net. Still, a pretty decent outing from the former Thrashers captain. I thought the holding penalty was weak, his roughing one is forgiveable.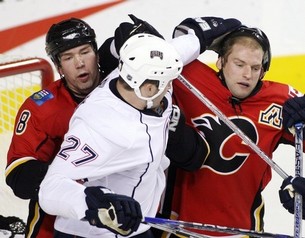 Penner, 6: Second star, a goal and an assist. He started the game strongly and, like the rest of the team, seemed to sag a bit in the second. He came back a bit in the third. His goal was a typical Penner goal, jamming it in from directly in front, and the assist came off a nice setup for Brule that the centre was frankly lucky to have scored. Manhandled Regehr early on, which must have been a surprise for #28. If he'd kept that first period play up all game, would have had a 7 or an 8. You can tell he's tired of answering the weight questions too. Who wouldn't be? Mike Milbury being angry at somebody for their manners is priceless too.
Stone, 4: Gritty play, but I think a secondary error on the Moss PP goal, he should probably have had the cross-ice pass. He's going to have to do more than check a smaller player into the bench to keep getting 13 minutes a game.
Grebeshkov, 6: A nice low-event game from #37. I saw him get hemmed in a bit too much for my liking, but that'll happen when you play as much as he did (22:30). He got a lot of power play time on a 0fer night though.
Souray, 5: It's not that His Hotness had a bad game, but this was one where he needed to assert himself in every aspect. His cannon needs to be on-target, not headhunting. He was good defensively though, and nearly got a stick on the Moss gimme goal. Led all Oilers whose last names don't start with K in icetime with 25 minutes. Like Horcoff, his -1 was undeserved.
Stortini, 5: It took 3 guys to help him off the ice after he clearly did Something Really Bad to his leg, and he was back the same period? The man is indestructible. Prust must have been happy it was #46 and not #33 he scrapped with though. +1 from Gagner's goal, although he didn't contribute much to it. If he plays like that he'll never be sent down, although he may not play every single night either.
Brule, 5: He got lucky on his goal, but you usually have to be in the right spot to be lucky. He needs to get better on faceoffs if they're going to be a secondary scoring line though. Some giveaways pulled his mark down.
Visnovsky, 5: Nice first hit also helped Glencross to pot his first of the season. Weak night on the power play, but was decent enough at evens. Hopefully he's still feeling the effects of too long a layoff.
Gilbert, 5: No scary moments, for either side. -1 from the Moss goal, I think the puck came up-ice on his side. Another guy who needs to produce on the power play for this team to work. Just average.
Hemsky, 5: The Hemmer-magic was not really evident tonight, as he was probably hampered a bit (see Horcoff). He needs a winger to set up, and I don't think JFJ is that guy, all due respect to Pat Quinn. Power play is all I need to say at this point. Credited with 3 shot blocks, which I didn't notice, but hey, good on him.
Gagner, 6: 2-8 on faceoffs kept him from a 7. I don't know why he decided to fight Conroy (I'm not sure Connie knows why either, he seemed a bit bemused in the penalty box), but he did ok there. Opportunistic goal is exactly what the doctor ordered, he made the most of 9:55 of icetime - 30 seconds on the PP isn't really much time to get things done.
Comrie, 5: He's finally settled into the role that MacTavish saw for him all those years ago, a decent supporting player who can chip them in. Powerplay though, 3:30 of nonproductive icetime there. His second assist on Penner's goal came off a faceoff win though, part of what the Oilers were missing last year. I doubt he can keep up the current pace of faceoff wins though.
Khabibulin, 3: "The player is usually involved in at least one massive blunder that directly contributes to a goal against." Enough said? He should stay in the net on a rolling puck like that, especially in a tie game with less than a minute left. He played well enough the rest of the night - a few great stops, but mostly vanilla.
Coaching staff: we don't usually grade them, but a few comments. This idea of spreading the scoring out almost worked tonight, but long-term, I can't see JFJ staying on the top line. In fact, the longer he's there while Penner plays like he did for 2/3 of the game, I think the more points this team gives up. Similarly, the longer Brule and Stone have spots on the roster, I think the worse off the team is going to be. None of those three are going to suddenly discover scoring hands, and while all proved themselves well in the AHL in that respect and have some size, each have some weaknesses that should keep them all to fourth-liners at best. Brule has the most upside, but Stone's skating makes Penner look good and Jacques' difficulties with creating plays or putting the puck in the net himself are well-documented. After last night, I've no reason to think this season will be any different from before. The defensive pairings seemed to work fairly well most of the night, although it was a bit curious to see Grebs get 5 minutes more than Visnovsky. Nearly a third of Vis' icetime came on the PP, so maybe the coaches want to work him back into gameshape while giving him some easier minutes and we'll see the numbers get more even. I don't know that the Horcoff PvP setup will work well either; if Hemsky thought he was being asked to be a checker under MacT, I can't see him being happy with this arrangement either, and O'Sullivan shouldn't get more power play time than #83.
Overall, they played well enough that you weren't left thinking "This is an NHL team?" but considering the talent they have, they should have shown more. We'll see what they have to show in the next few games, but if things keep up as they did last night, I can see Nilsson being brought in off popcorn duty to sub in for whoever's in the doghouse by game #5.
---