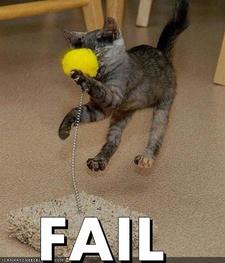 Game 2 of the home and home didn't go much better for the Oilers than did game 1.  Again, Luongo was magic, but he didn't have to be extremely good as the Oilers didn't challenge him much outside of the first period.  Roloson was ok for the Oil, but they just gave up too many chances, and the Sedins did their usual job of driving the defence crazy down low.  MacTavish had the line blender out again, to little effect.  Stortini drew in, as did Schremp (didn't think they got called up to sit), and Pouliot was re-inserted.
The first period and a half went pretty well for the Oilers, then things just fell apart when the Canucks power play dominated for two minutes straight - they didn't score, but they did shortly afterwards and the Oilers got down.    As the game wore on (to my eye) we saw the kids more and more, particularly Cogliano, Schremp, and Stortini.  Cogliano combined with some vicious forechecking by Stoll to put the Oilers only goal past Luongo.  I guess MacTavish and Moores decided since the usual suspects weren't getting things done with the man advantage, Schremp might as well get some time.  He didn't do great things with it, but neither was he embarassing - save when he tripped over the blue line.  On the last power play, he was even running it for a while from the half boards, Hemsky's usual spot. 
Looking at the TOI totals, yep, Schremp went 2:15-3:16-5:11 with 2:32 of PP time (1:54 in the 3rd), although Cogliano was a steady 6 minutes a period - third behind Horcoff and Stoll for total TOI amongst forwards.
What does Edmonton need to turn things around?  First of all, no surprise, they need their captain.  Moreau's always been one of the go-to guys - he fought his first game as an Oiler and hasn't stopped fighting since.  They need a power play (put on last year's record) - Souray and Pitkanen need to fulfil their promise, and Penner needs to make us forget a certain mou-let as he stands in front of the net.  And finally, they need their best players to be the best players.  Hemsky needs to step up, Horcoff needs to go with him, and Stoll needs to re-discover his game.  It's not clear that his concussion is to blame, as he doesn't appear to be hesitant at all, but there's a certain je ne sais quoi missing.  And finally, when all else fails, they need their goaltending to be better than "good".  Maybe a miracle would help too, but right now it's looking like Burke's gonna get that high pick he was drooling over.
Photo from icanhascheezburger.
---