I love October. I love the fall weather, the fresh start (some would say that's spring, but I've been around academia my entire life), the relative quiet as everybody buckles down for winter.
As I write this, I've caught up on weblogs. I've done some dishes, cleaned off my bedside table, neatened up my desk, written three blawg posts, commented on some others, played with my cat, mocked my wife's hamster, talked to some friends, answered some emails... in other words, a normal Sunday afternoon.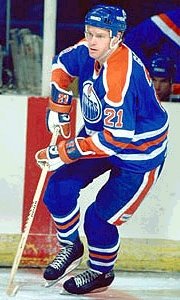 But there's something else I love about fall.
In addition to my normal Sunday chores, I've ordered and verified functionality of Centre Ice. Game 1 for the only team that counts starts in 2.5 hours. I did watch most of both Vancouver/Calgary games, and the last half of Montreal kicking the crap out of Toronto, so I've had dessert already. I'm hoping that the Oil can provide some nice stick-to-your-ribs buffet dining, as the only thing I love more than Toronto and Calgary getting embarrassed is an Edmonton win. With any luck, there'll be plenty of the above this season.
Like most Oilers fans seem to be, I'm cautiously optimistic this season. Chopper should be around 82 games to blindside Phaneuf. Souray should be putting the fear into opposing goalies. Cogliano, Gagner and Nilsson should be slicker than (pick your favourite metaphor). Hemsky and Horcoff should threaten the point a game barrier. Newcomers Cole and Visnovsky should be fired up. Garon should be eager to replicate his performance last year while wily vet Roloson champs at the bit to prove he's still the man and JDD revs up to steal both their jobs. Penner should be ready to try to reclaim his spot on the power play and prove his detractors wrong.
In other words, the team has a lot to prove and finding motivation should not be difficult. The Silver Fox Craig MacTavish is around to help if things start going bad, as they're sure to do.
Whatever happens, Dr. Randy Gregg promises good times and can fix you up after the game. I can't wait.
---